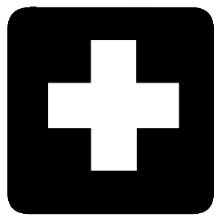 Deploying vRealize Operations Manager
A vRealize Operations Manager cluster provides resources to manage and monitor your infrastructure which can reduce support costs and improve performance.
It can be installed in the following formats
As a Virtual Appliance
On a Linux (RHEL server) RHEL 6 starting with 6.5
On a Windows server Windows Server 2008 R2 Service Pack 1 (SP1) + the following hotfixes
Installer Link
https://my.vmware.com/web/vmware/details?productId=538&downloadGroup=VROPS-610#product_downloads
2 required Microsoft Updates
http://support.microsoft.com/kb/2577795
http://support.microsoft.com/kb/2538243
The same software stack is used for each
Product/Admin UI
Collector (REST API)
Controller
Analytics
Persistence
Databases
Considerations pre-build
How many objects do you want to monitor?
Do you want high availability?
Are you collecting data from remote locations?
Which type of nodes do you need to deploy? (Master/Data/Remote Collector/Master Replica)
Except for the Remote Collector, all cluster nodes must be of the same deployment: .OVF, Linux or Windows
Sizing the cluster
Use the VMware KB article 2093783

For objects other than vSphere, such as Hyperic objects and EMC VNX arrays, NetApp filers, VMware recommend that you install the adapter and collect the data for at least an hour. You can then check the amount of objects an metrics generated and put these into the spreadsheet.
To find out how many objects and metrics an adapter instance collects go to Administration > Cluster Management.
Networking requirements
All nodes must perform successful DNS resolution the FQDN
Forward DNS
Reverse DNS
Short name
Long name
The master node and master replica node must be addressed by a static IP Address and FQDN
All nodes in the cluster must be bidirectionally routable by IP or FQDN
IPv6 is not supported
Nodes in a cluster should not be separated by NATs, a load balancer, firewall or proxy
Network Ports required
vROps does not support the customisation of server ports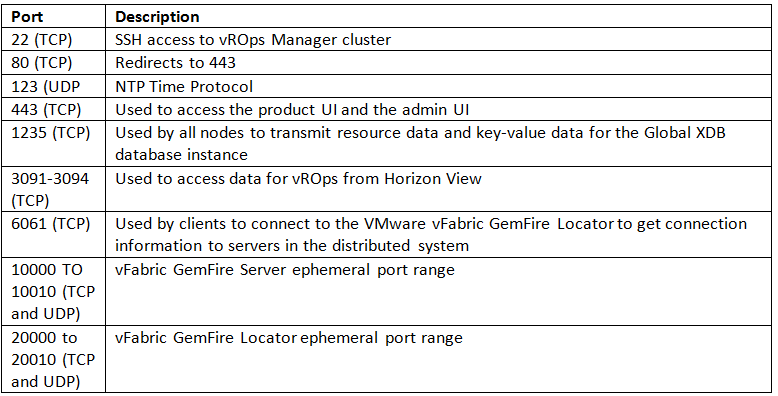 Supportability
vCenter 4.0 Update 2 and later managing ESX/ESXi 4.0
Google Chrome
Mozilla Firefox
Internet Explorer 10/11
Supported resolution 1024 x 768
High level overview of steps
Deploy OVF to create Master Node
Run initial setup to create master node
Set up data nodes (Optional)
Set up Remote Collector nodes (Optional)
Enable High Availability (Optional)
Log in to the Product user interface
Configure a new installation
Deploying the vROps Manager node
Don't forget to add this server to DNS
Download the OVF to the local system
Using the Web client or vClient, deploy the OVF template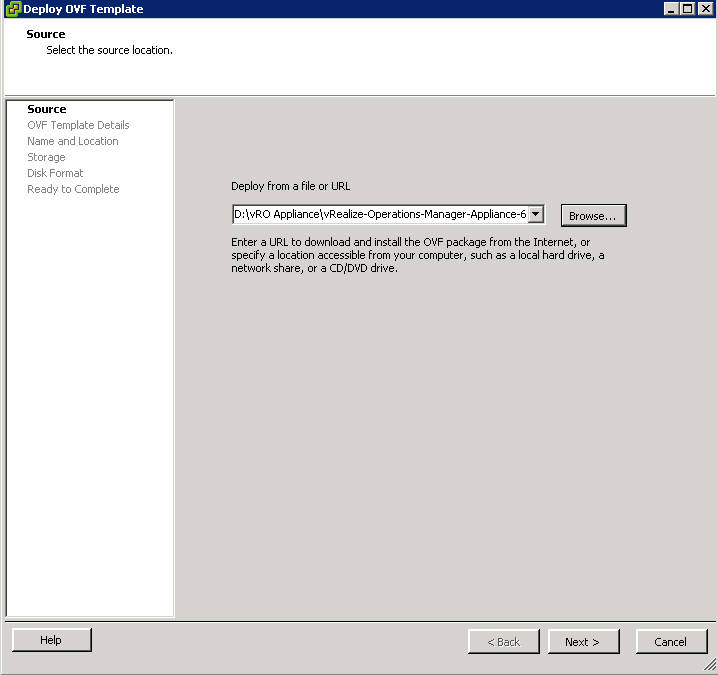 Check details and click Next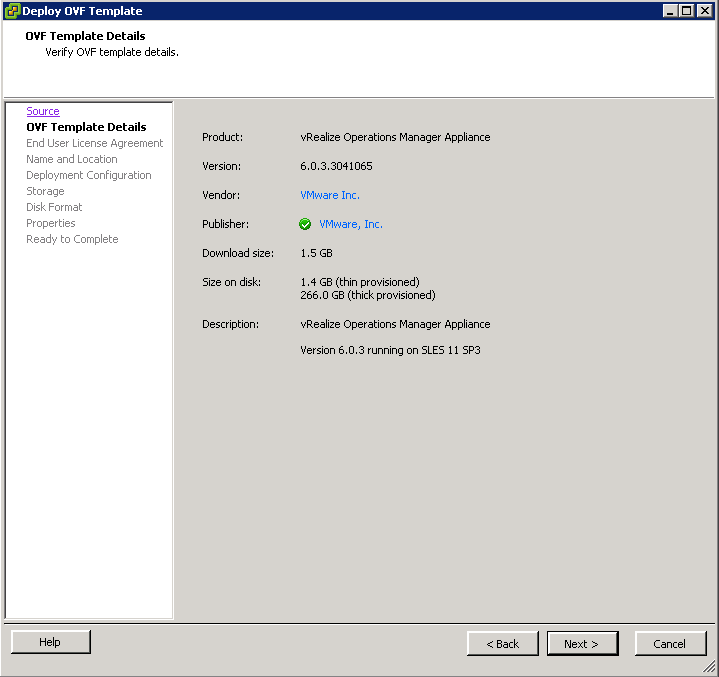 Accept the License agreement
Click Next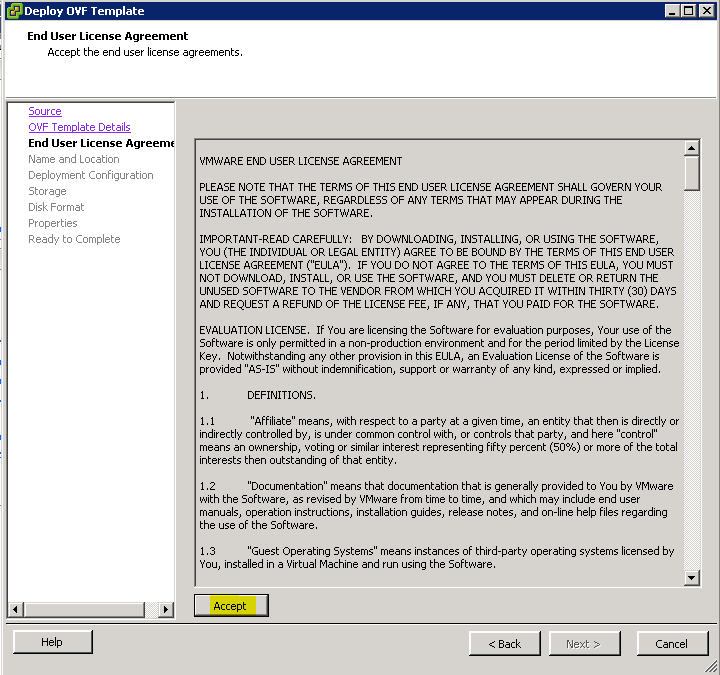 Put in a name
Choose inventory location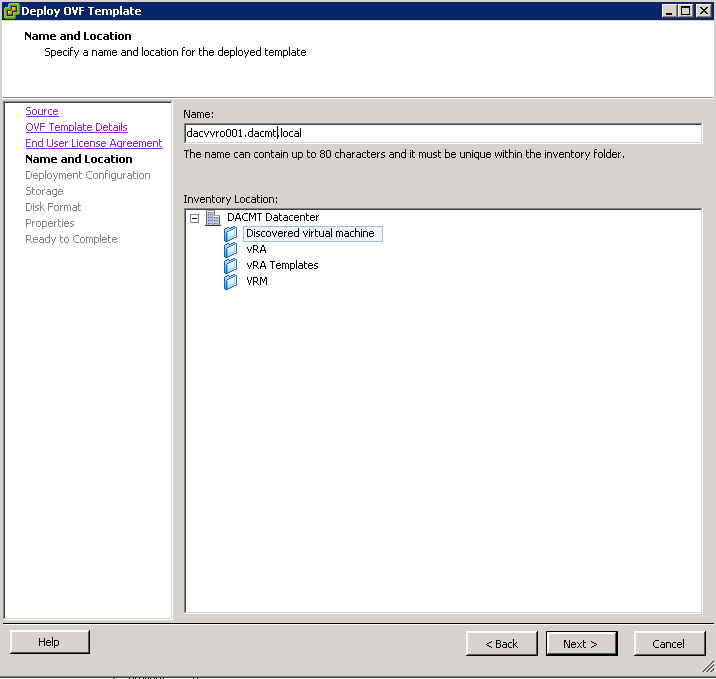 Choose the type of deployment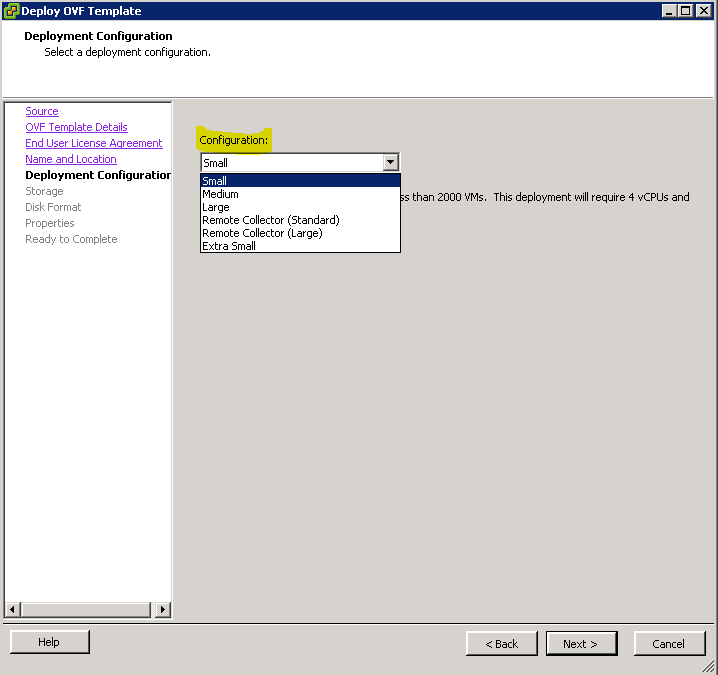 Choose what storage the appliance will sit on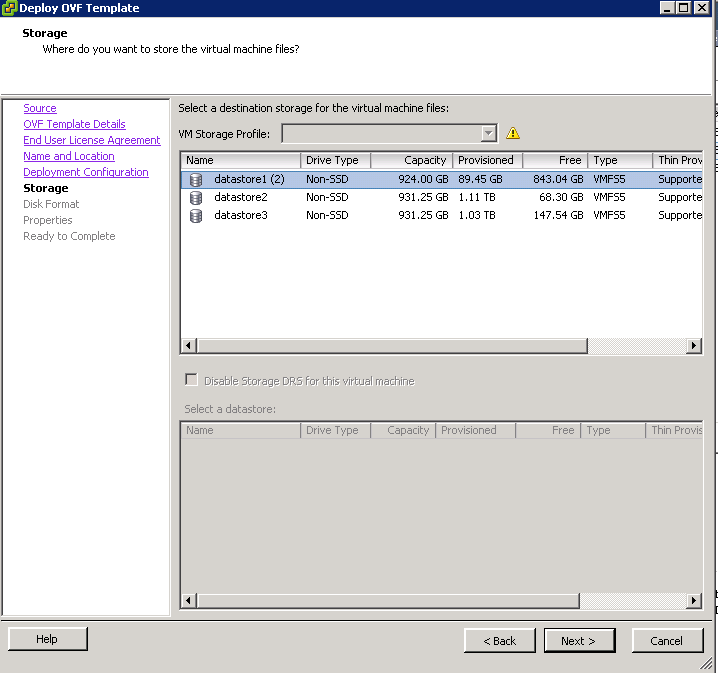 Choose the type of storage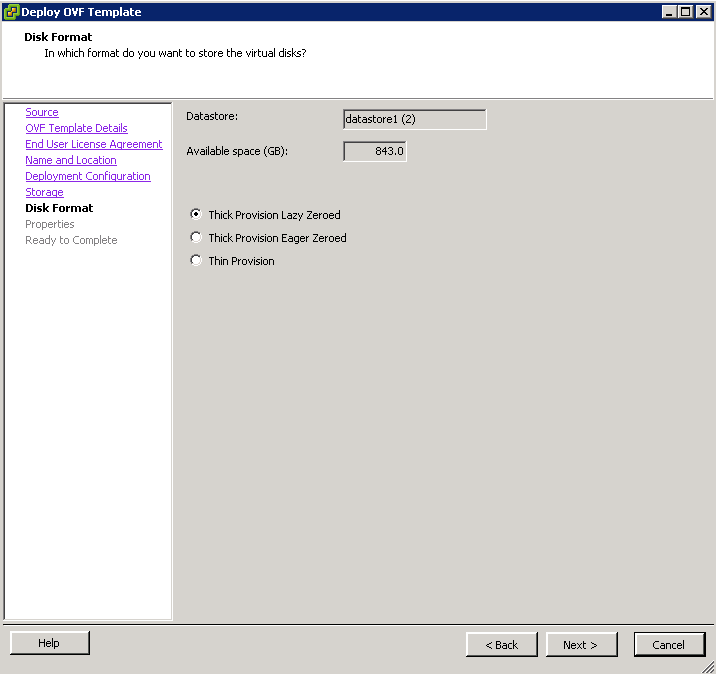 Put in time zone
Put in network details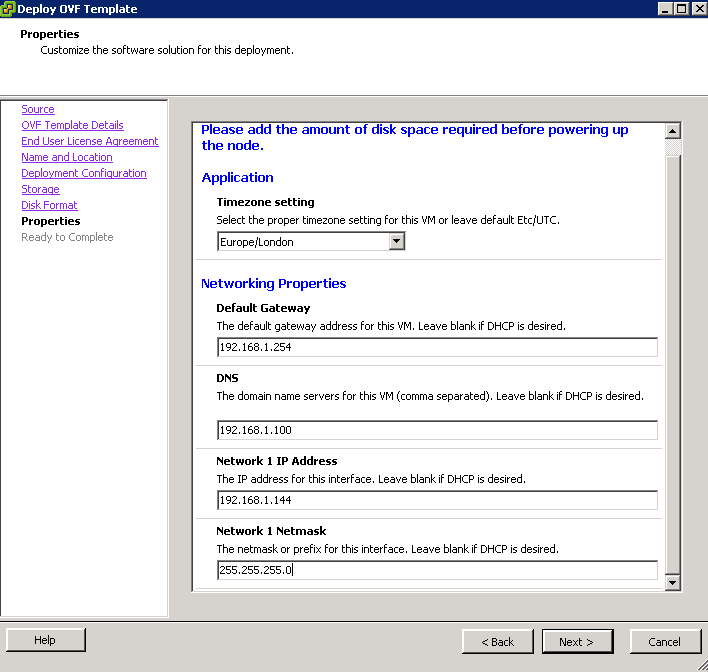 Check details
Select Power on after deployment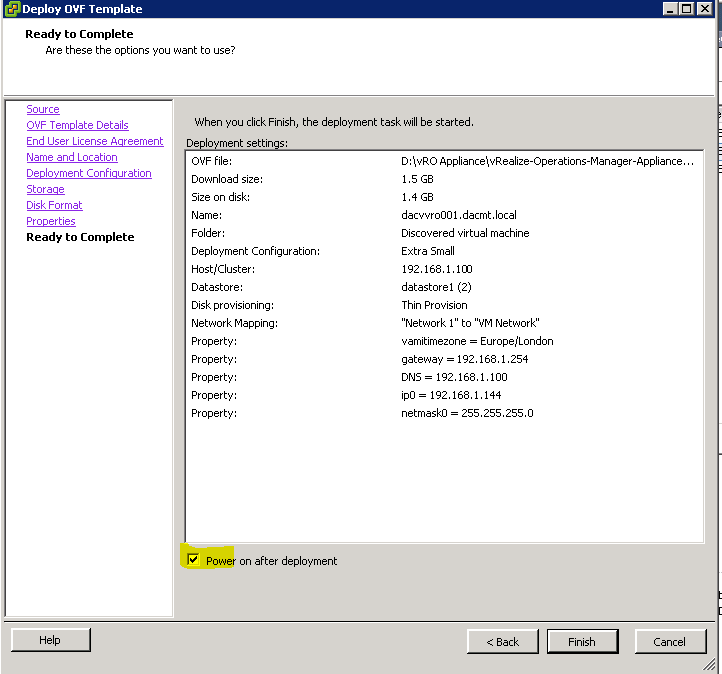 Once the deployment has finished, enter the node name in your browser
Select the type of deployment you want to use. The first node which is installed becomes the master node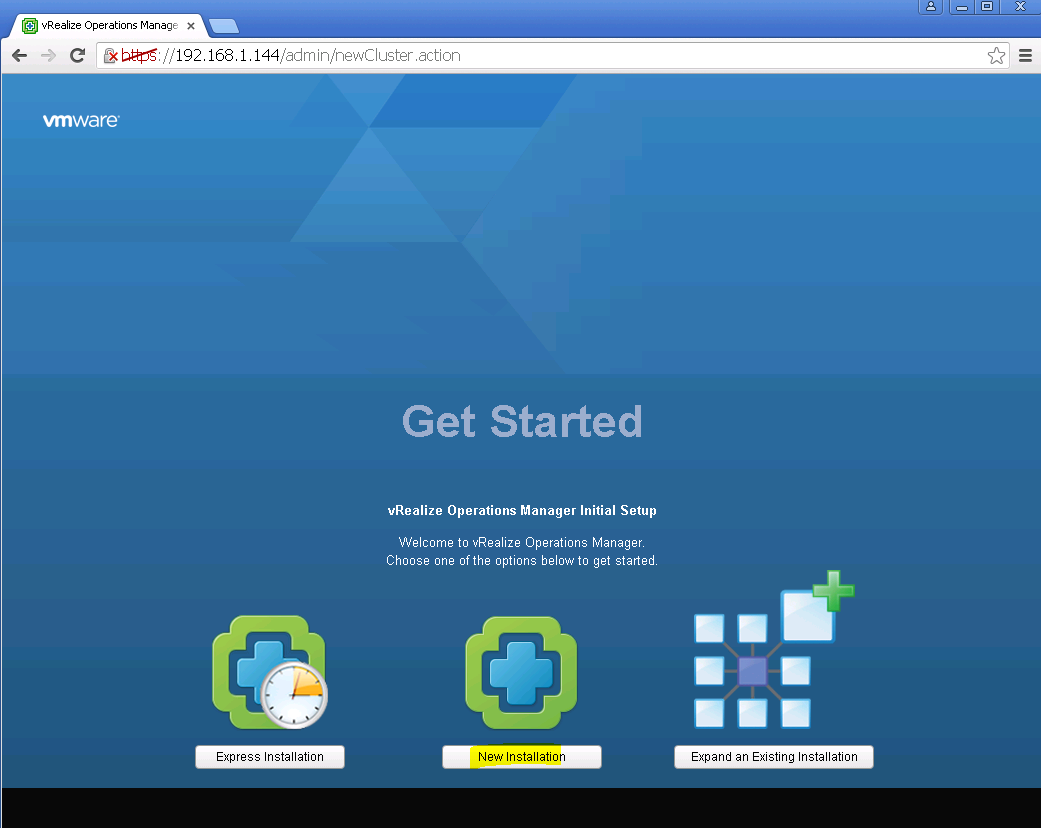 You can select one of the following installation options
Express Installation (This option is the quickest and easiest option. Use this option to set up the first node in a vRA Manager Cluster. It s uses default values for all config options
New Installation (Use this option to set up the first node in a vRA cluster. However unlike Express Installation, you can configure advanced configuration options
Expand an Existing installation (Use this option to add nodes to the cluster after the first node has already been configured
For now we will chose New Installation as our first installation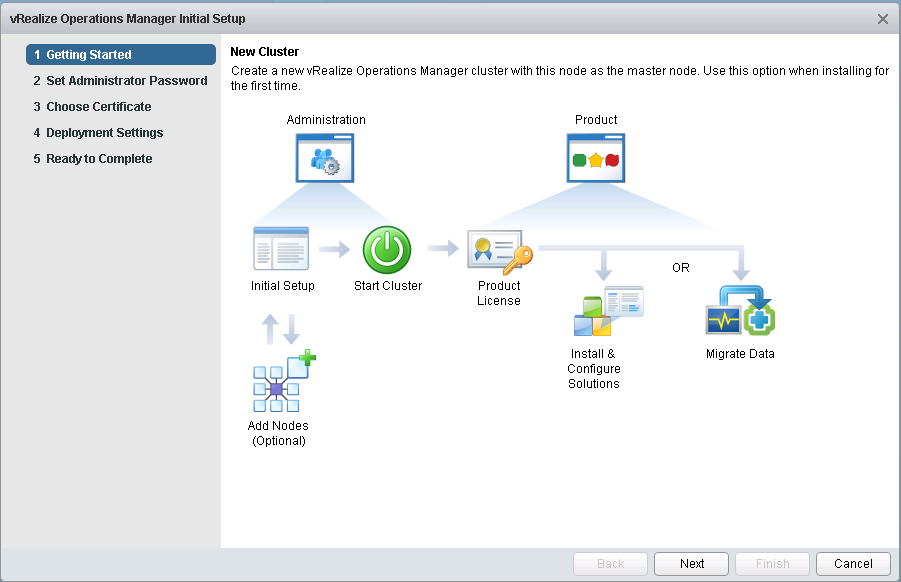 Click Next
Enter a password for the admin account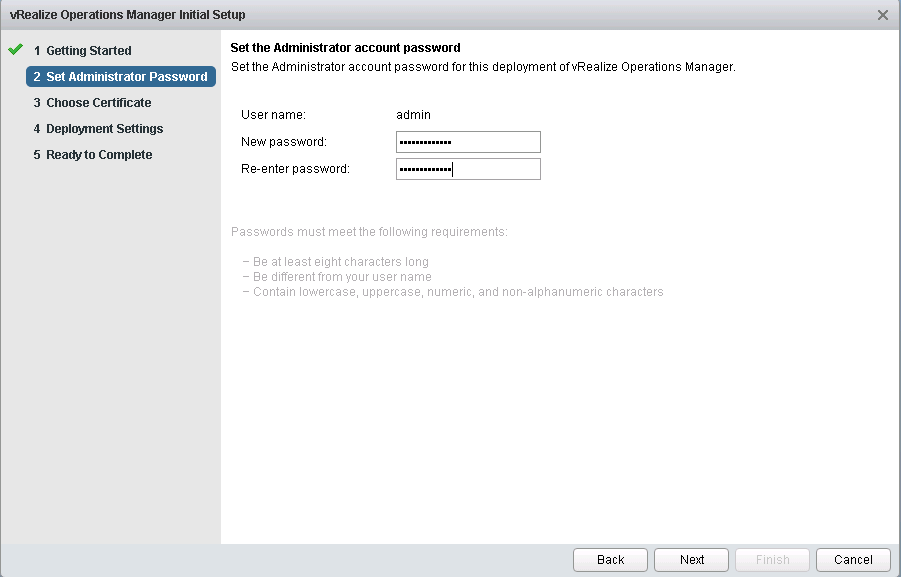 Unless you have a certificate, choose default certificate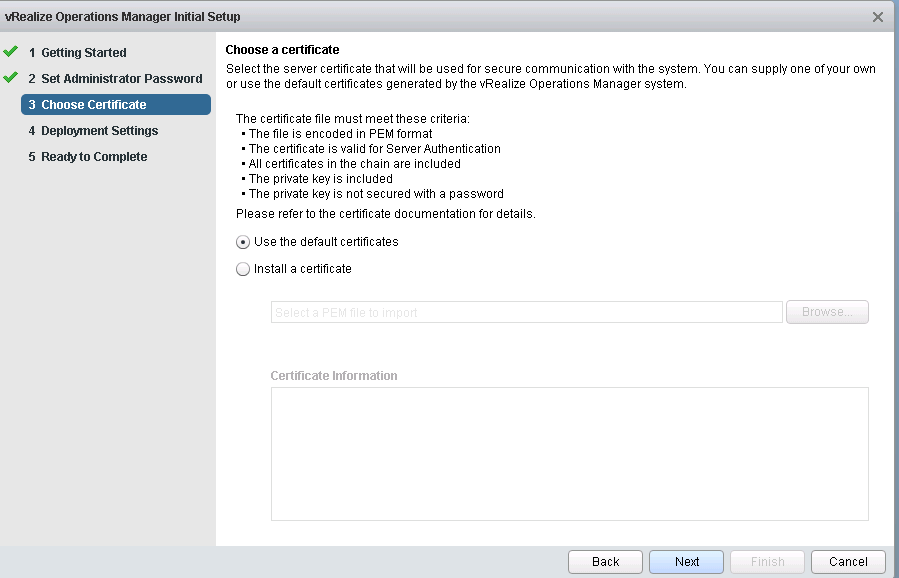 Click Next
Enter a cluster name
Enter a time server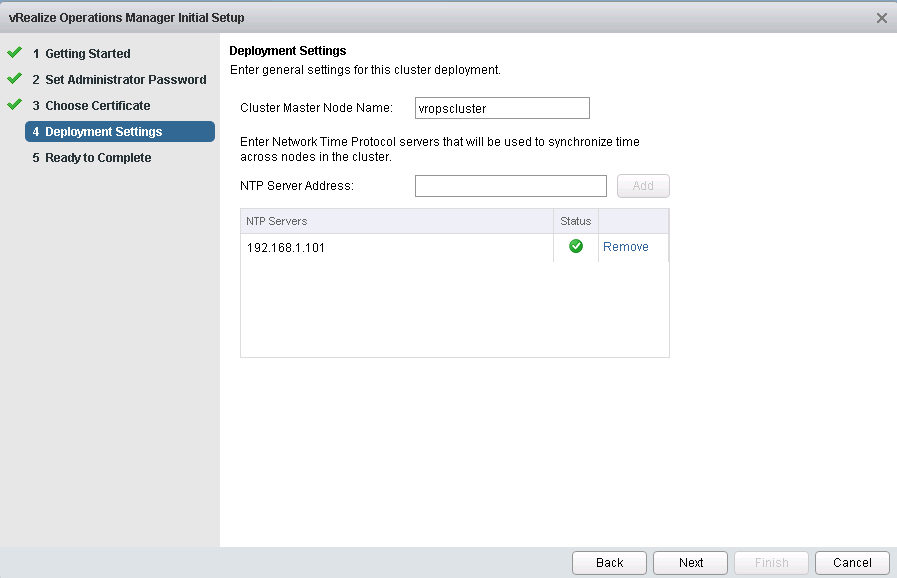 Click Next and check the details
Click Finish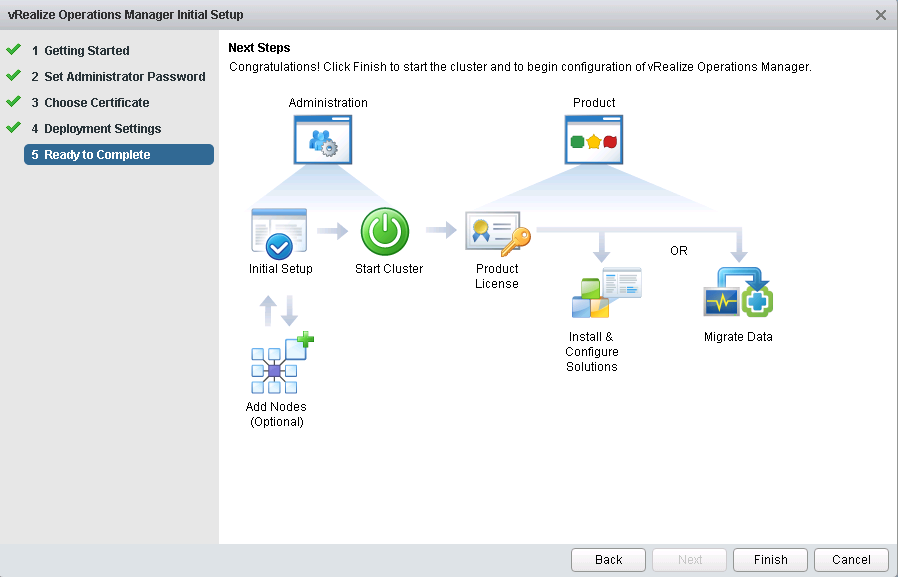 The Root Password
Log into the console
Type root for the username and hit enter for a blank password
It will now prompt you to change the password

SSH setup
In order to allow connectivity via SSH you can type the following in the same screen
service sshd start to start the SSH service
chkconfig sshd on to make the change permanent and not be stopped post reboot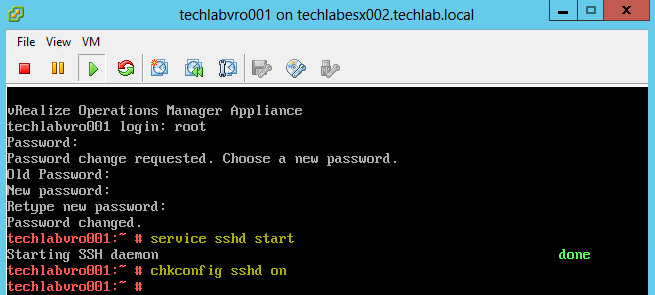 After the initial setup
You will now be logged into the Administration User Interface as user admin
The Administration interface is used to manage the cluster. The master node has been installed and is currently powered off and offline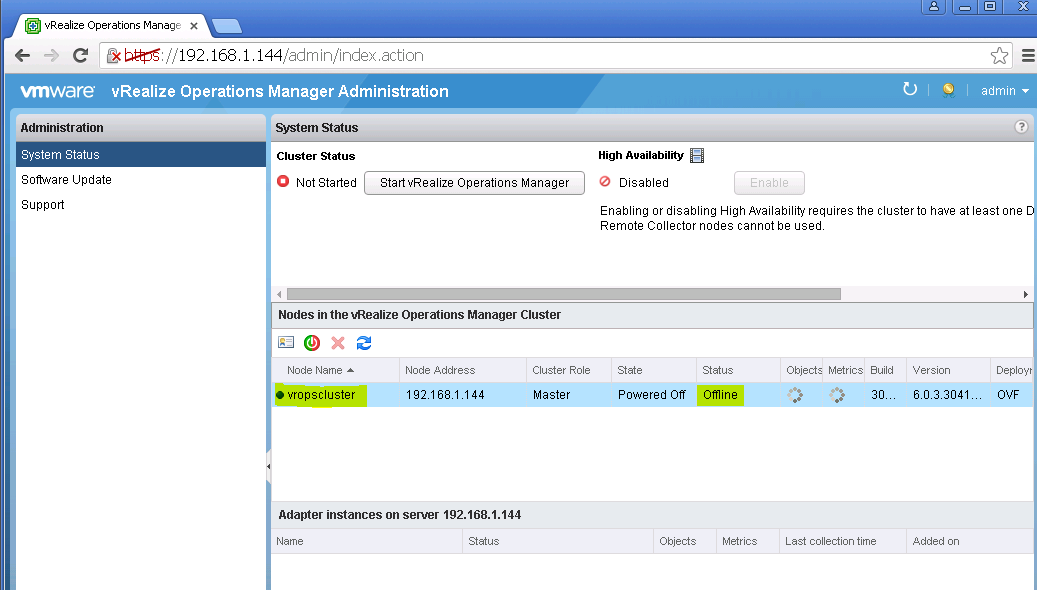 If you want to add an additional Data node or Remote Collector node to your cluster at this point, you will need to deploy another virtual appliance and then log into the browser again and select Expand an exiting selection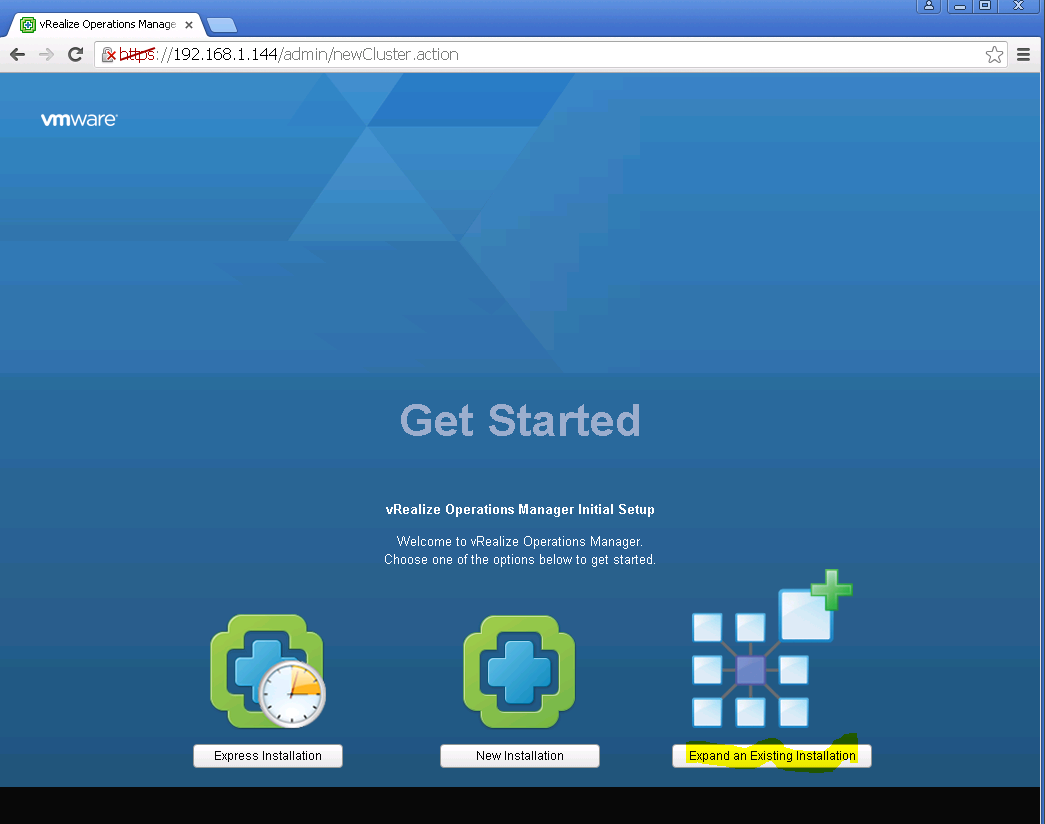 You would then need to enable High Availability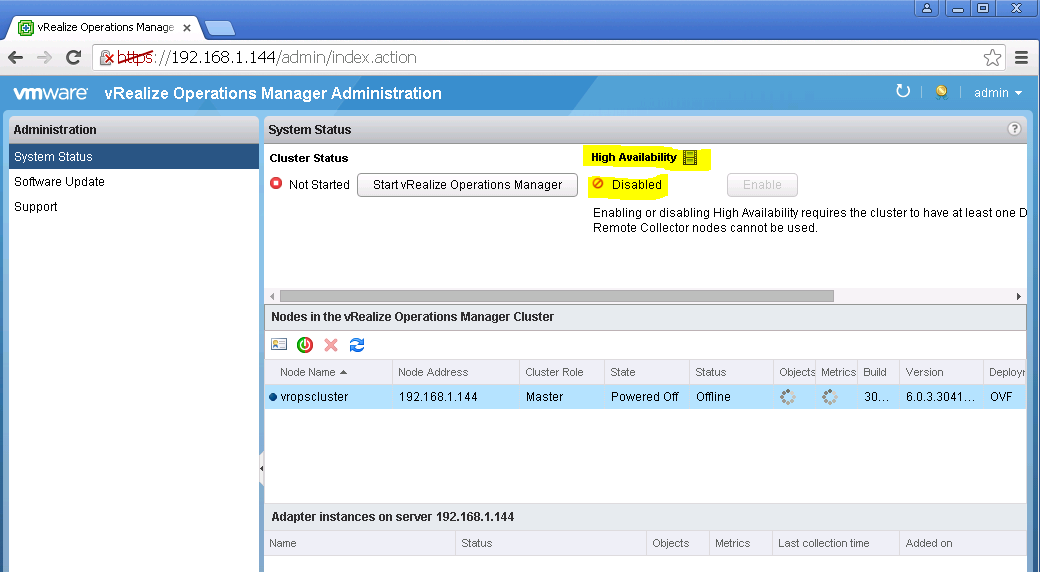 Click Start vRealize Operations Manager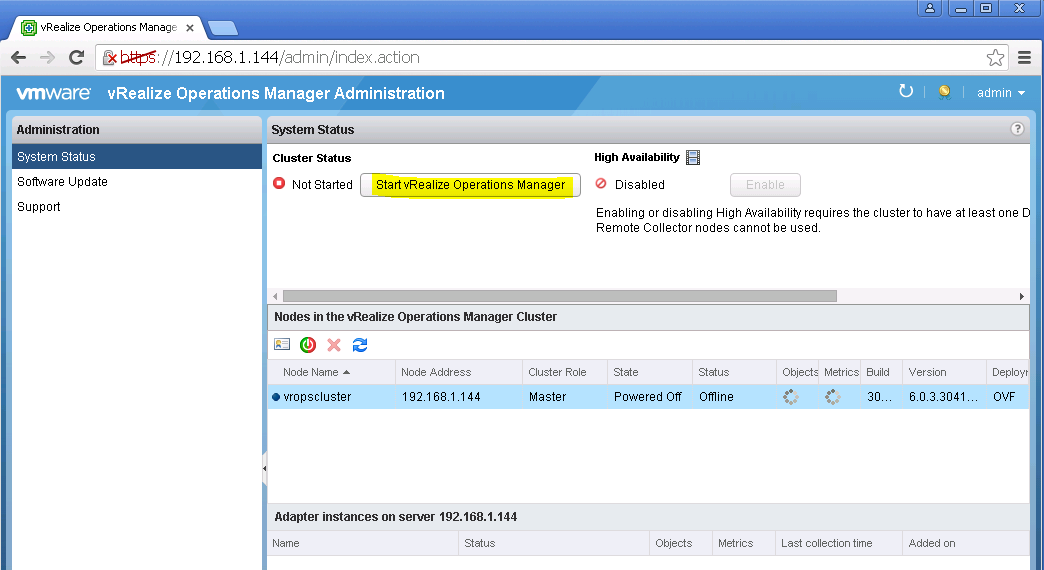 You will get the below message

You should see the user interface below
The Remote Collector comes online before the other nodes because these nodes do not have to participate in cluster data services and do not have to wait for the various data service components to start
To finish the install, log into any datanode as admin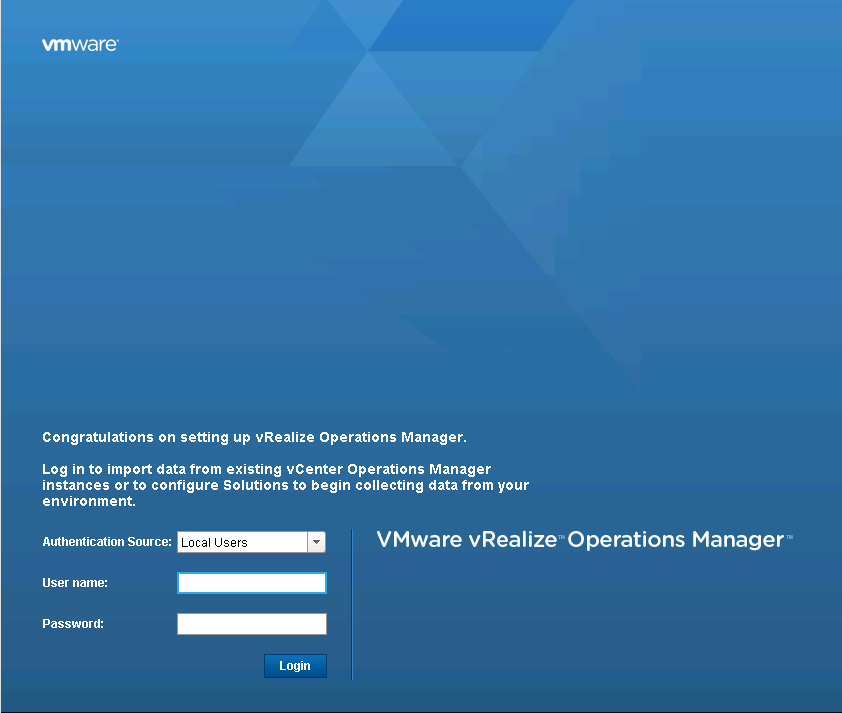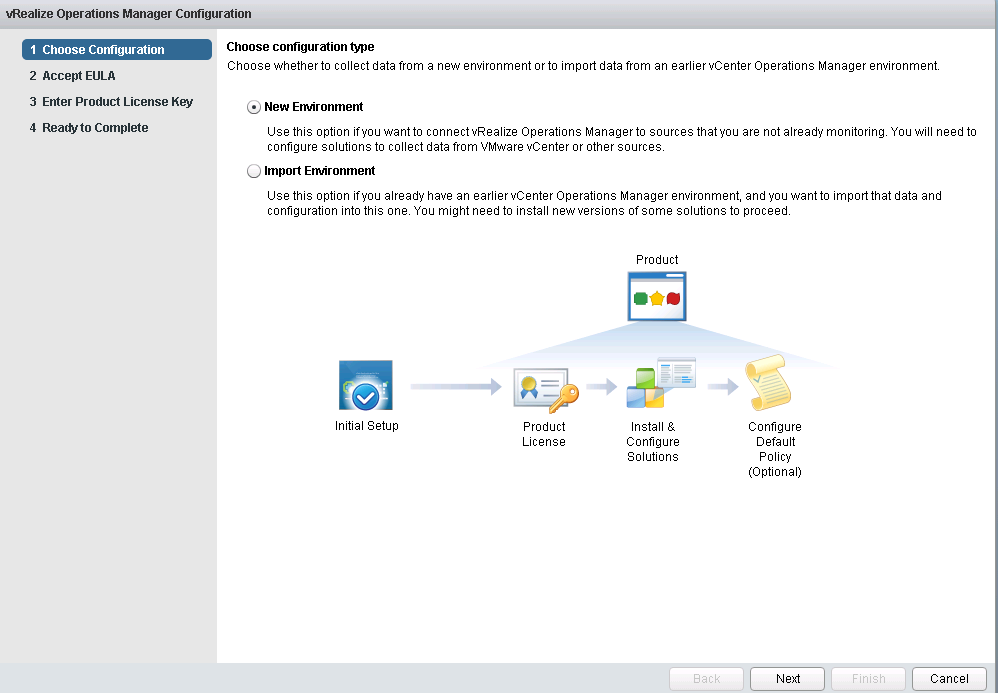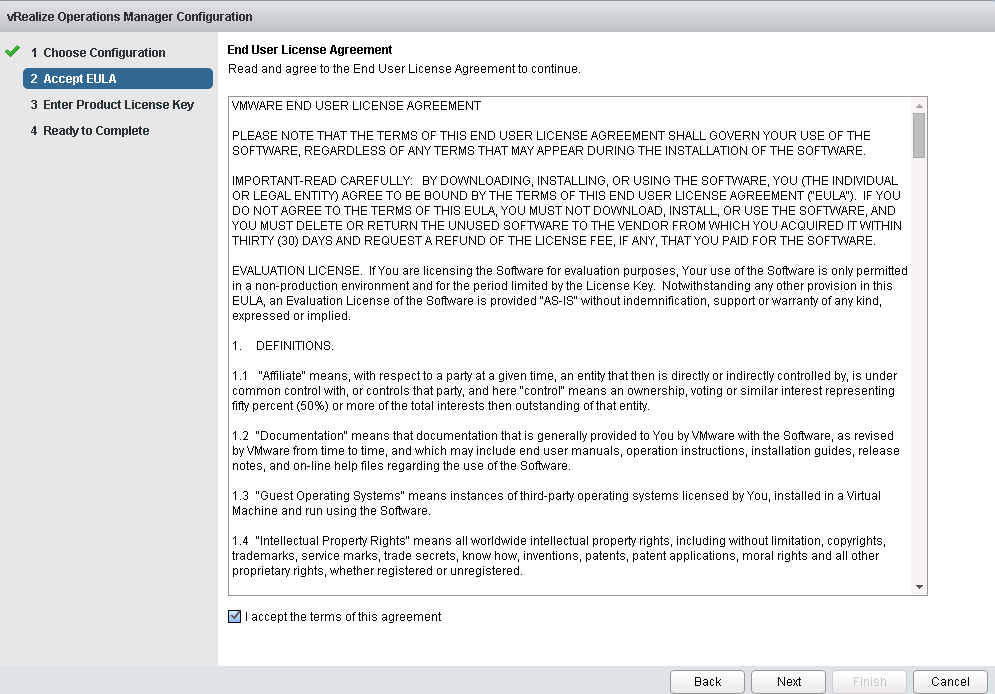 Use the Evaluation license or put in your license key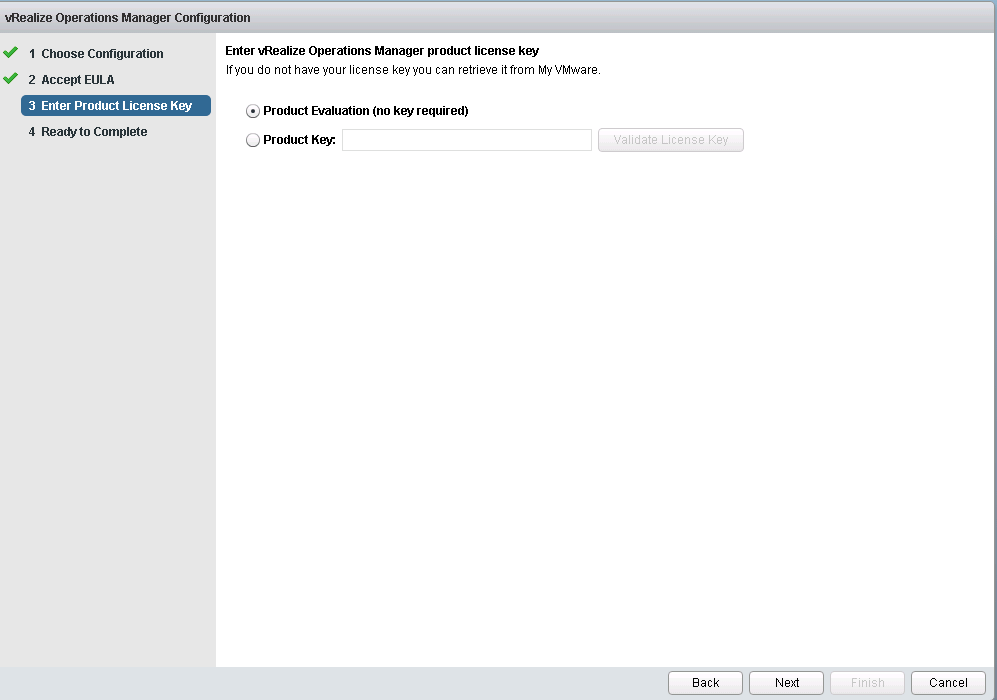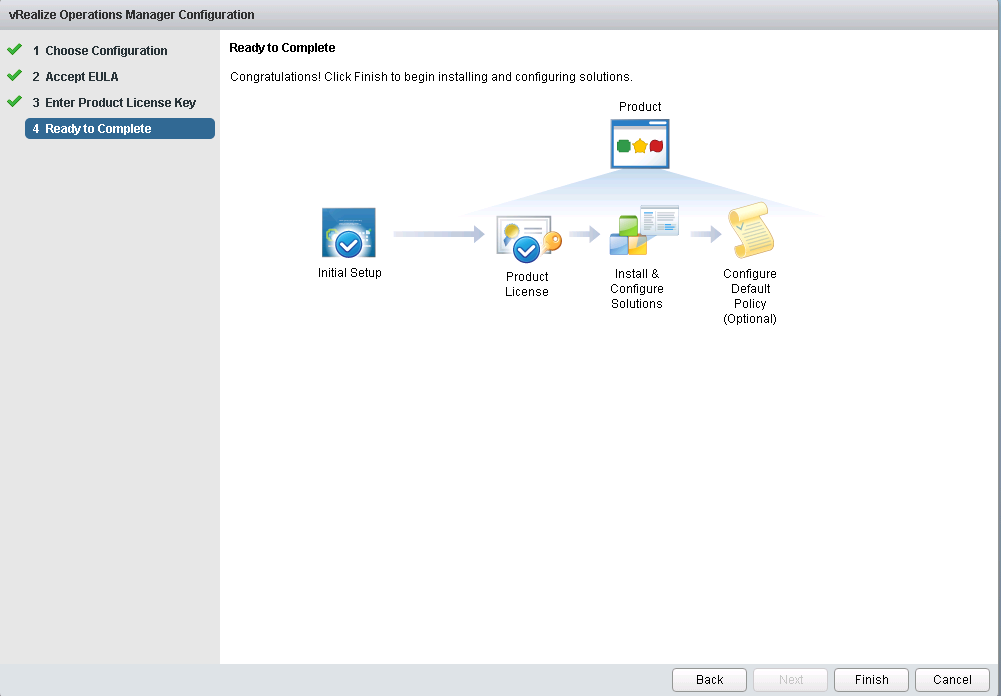 You will then be automatically logged on to the Product User interface and placed in the Administration > Solutions page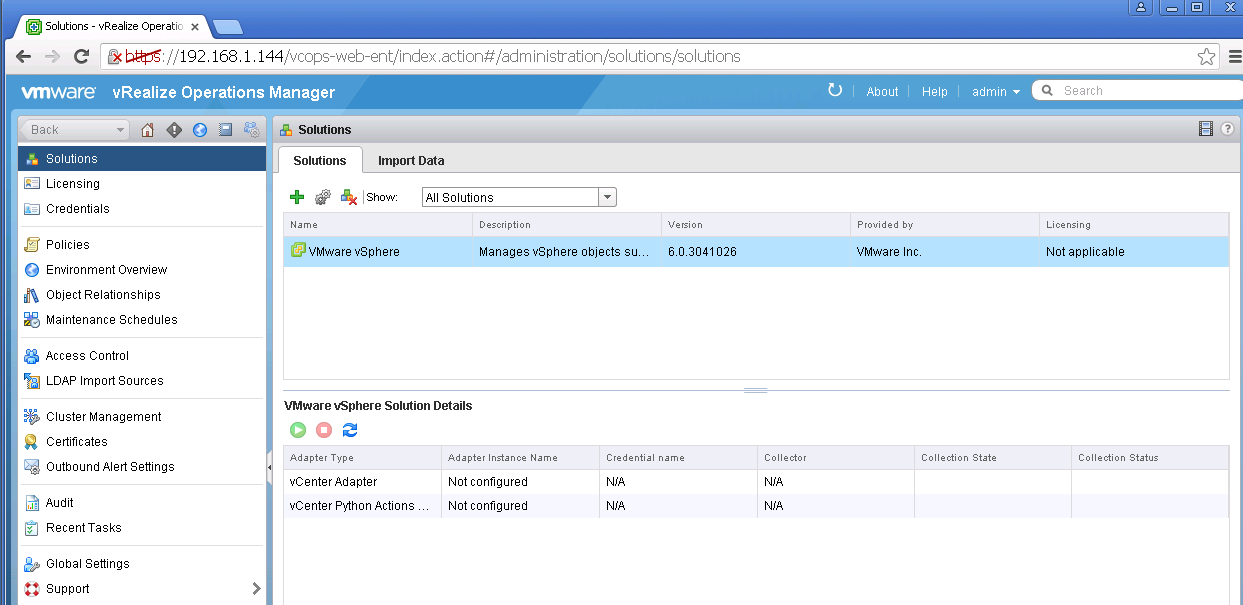 Configure the adapters for the vSphere solution which are
The vCenter adapter (Polls the vCenter server to collect data for vSphere objects)
The vCenter Python Actions adapter (Allows you to perform remediation actions)
Start by clicking on vSphere in the main page and selecting the cog wheel to edit settings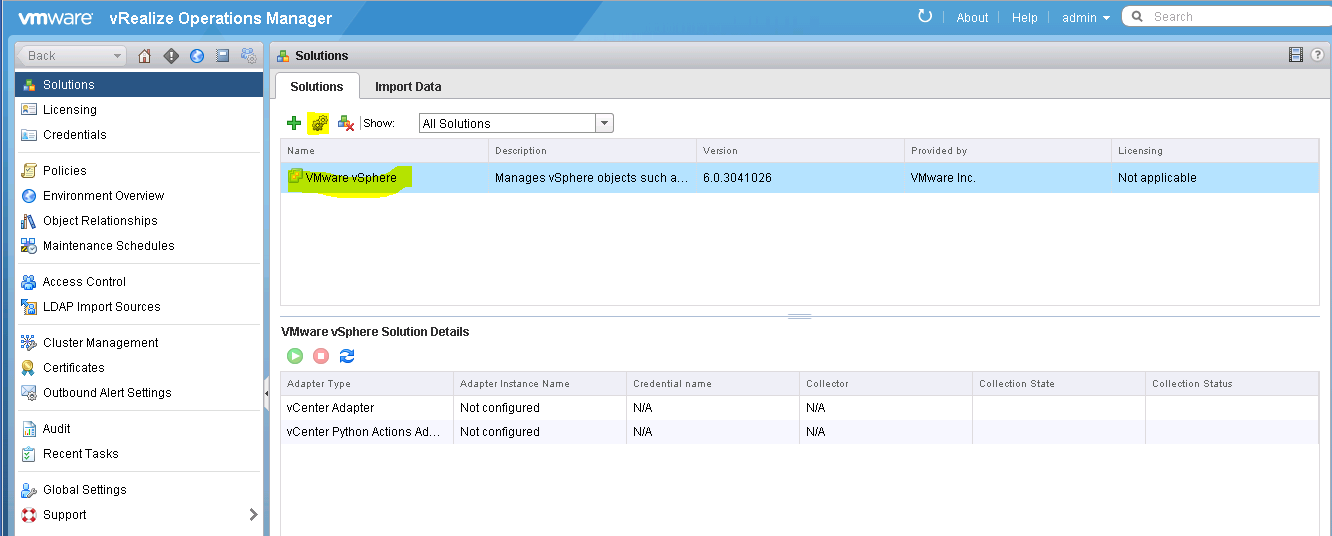 Enter in your details
Enter credentials by clicking n the green plus sign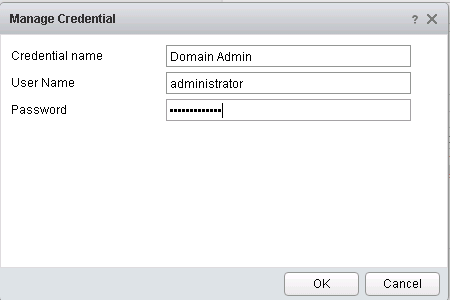 Click Test Connection
If OK click Save Settings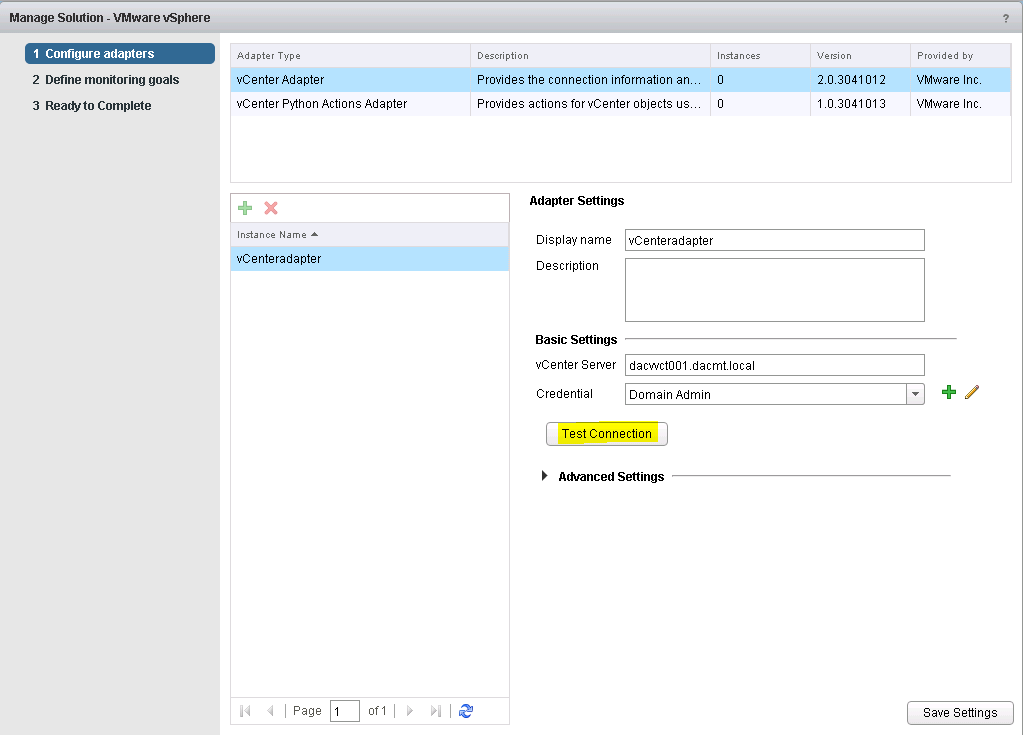 It will prompt for a certificate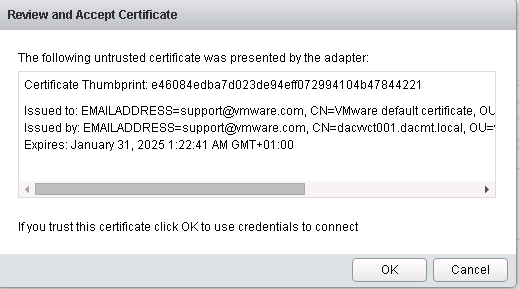 Then check if authentication was successful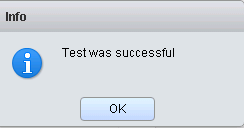 There are Advanced settings detailed below
Choose a Collector (a specific cluster node)
Use Autodiscovery to determine if objects added to the vCenter inventory are discovered and added to vROps after the config of the adapter
Process change events
Registration user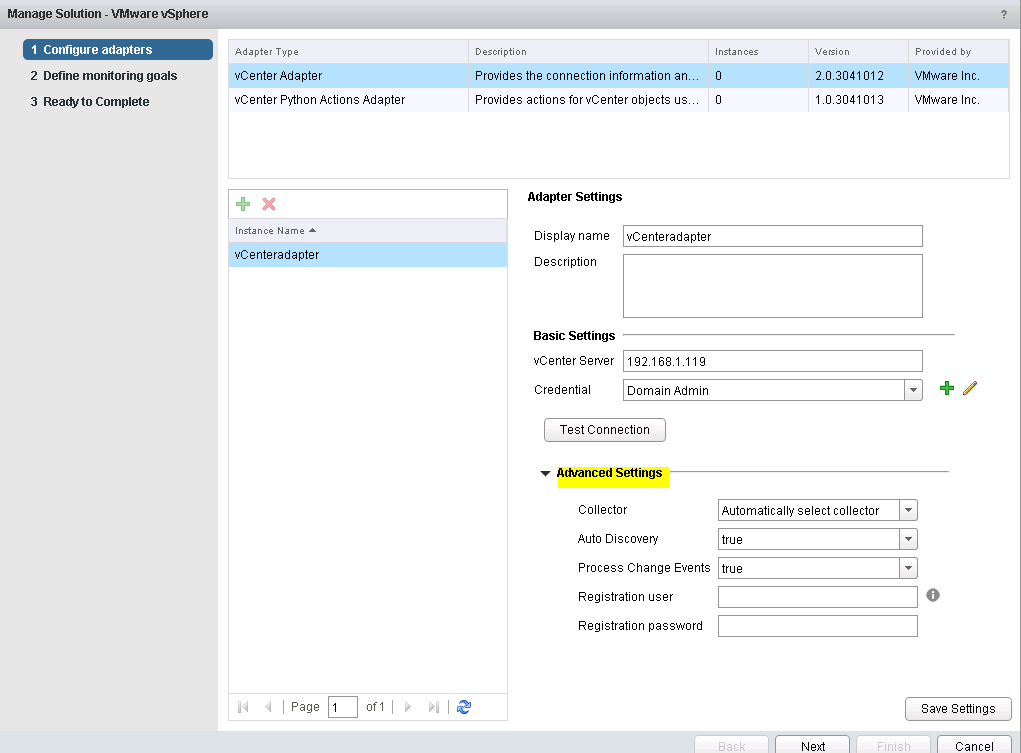 Next Configure Monitoring Goals
These help define policy settings which are part of the solution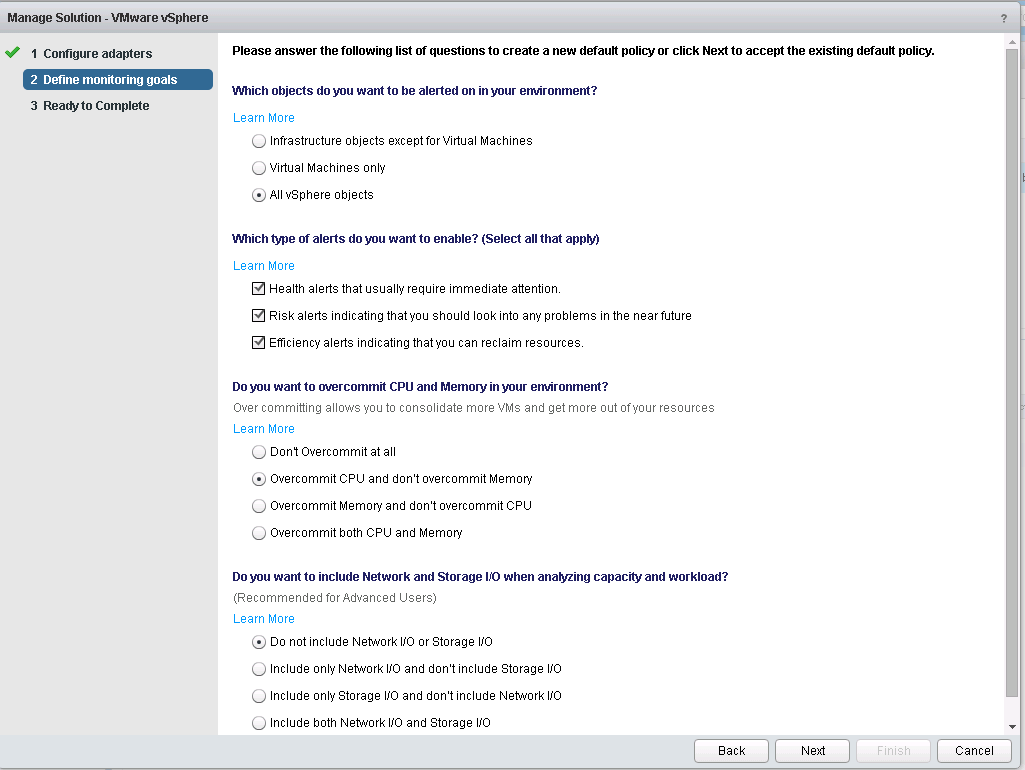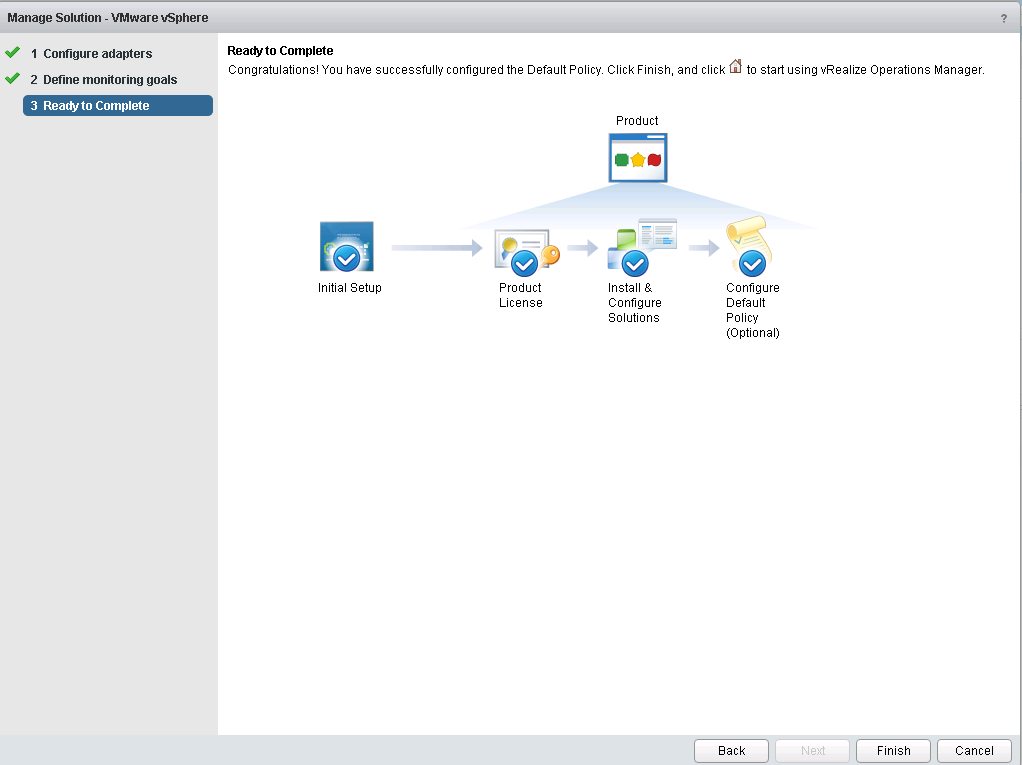 Now go through exactly the same process to register the vCenter Python manager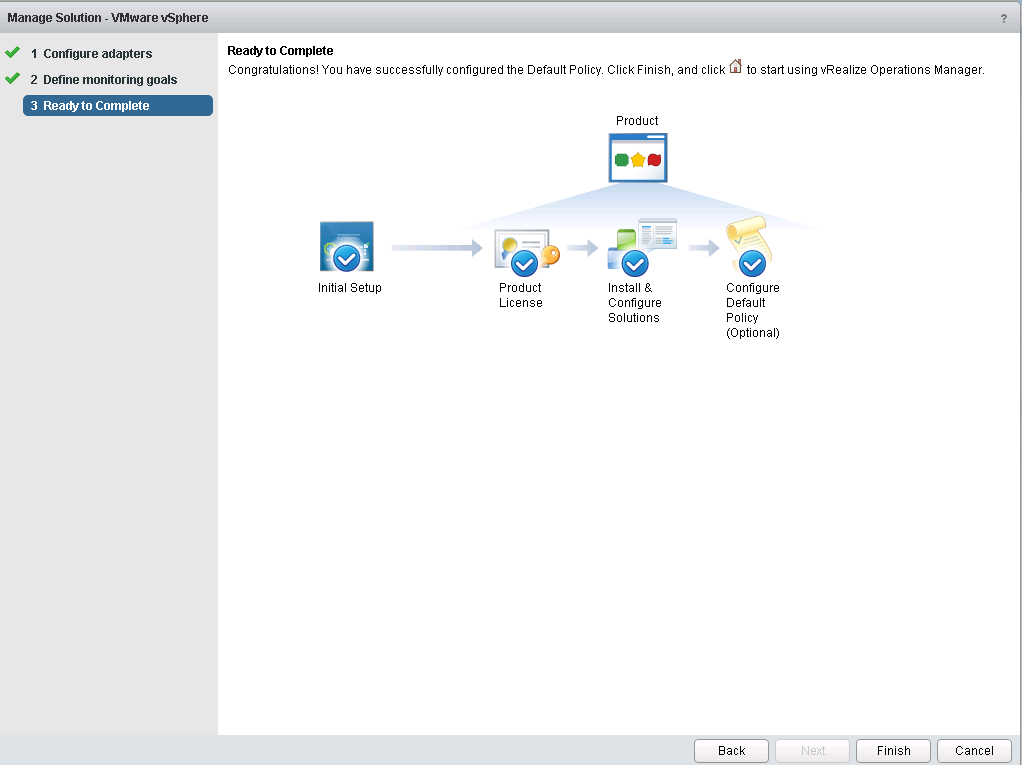 Check that both adapters are saying Collecting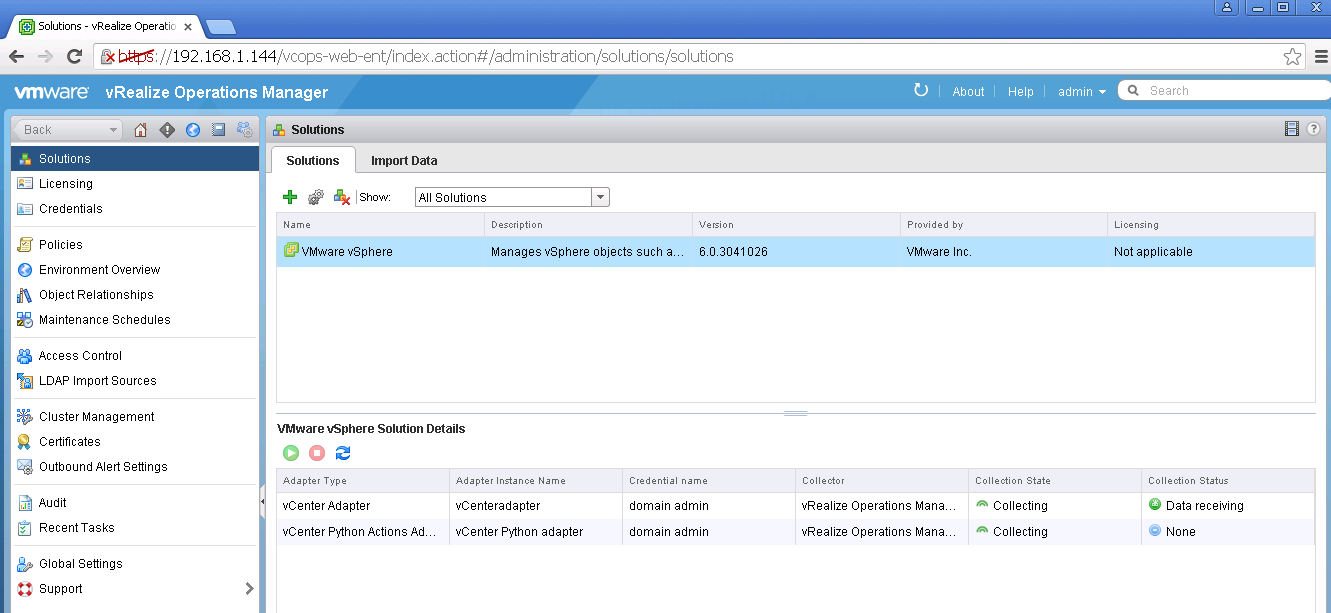 Policy Settings
Based on what you set in your monitoring goals during installation, a default policy is created for the solution
Go to Policies > Policy Library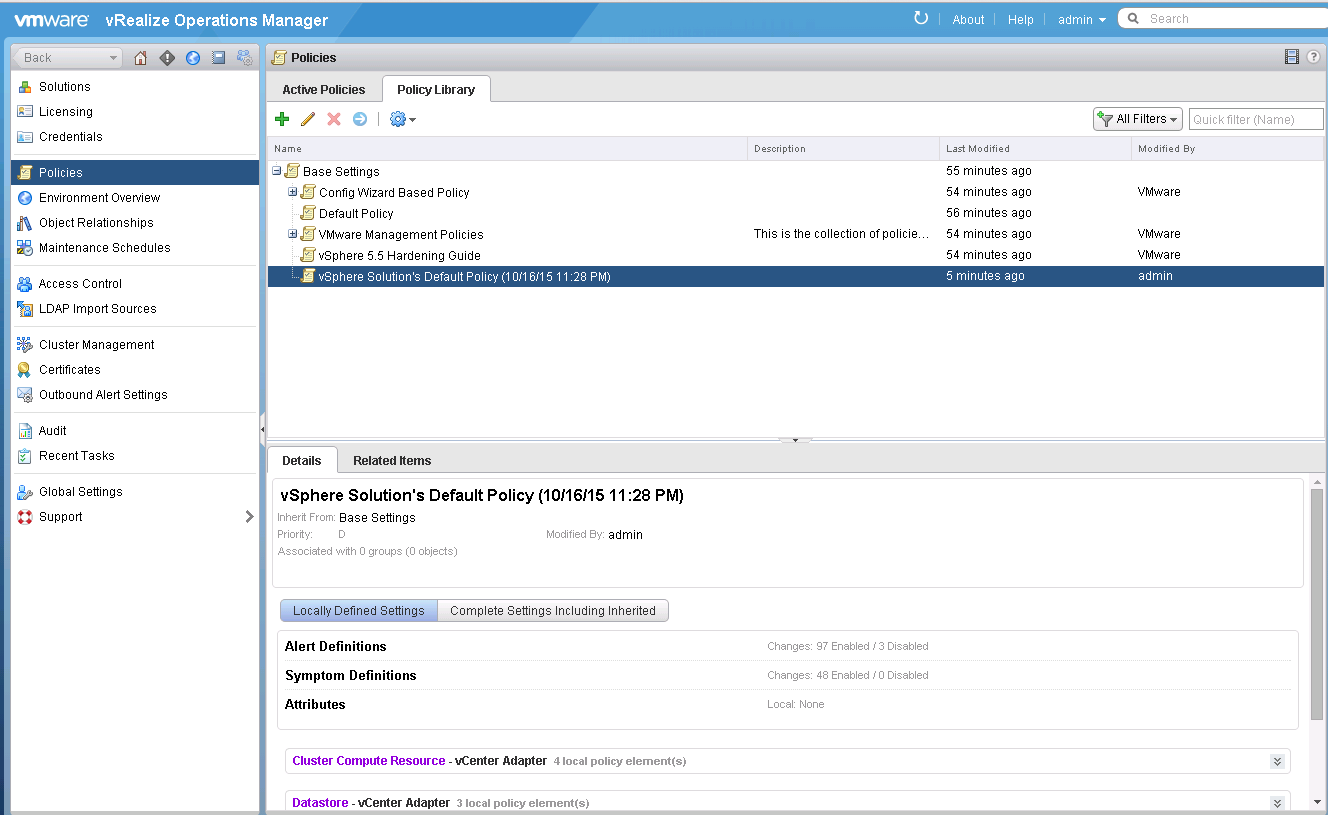 Go to administration > Environment Overview
The vRealize Operations Adapter collects performance and health metrics about the applications, so the application can be visualised.
It can also automatically fail over if the master node fails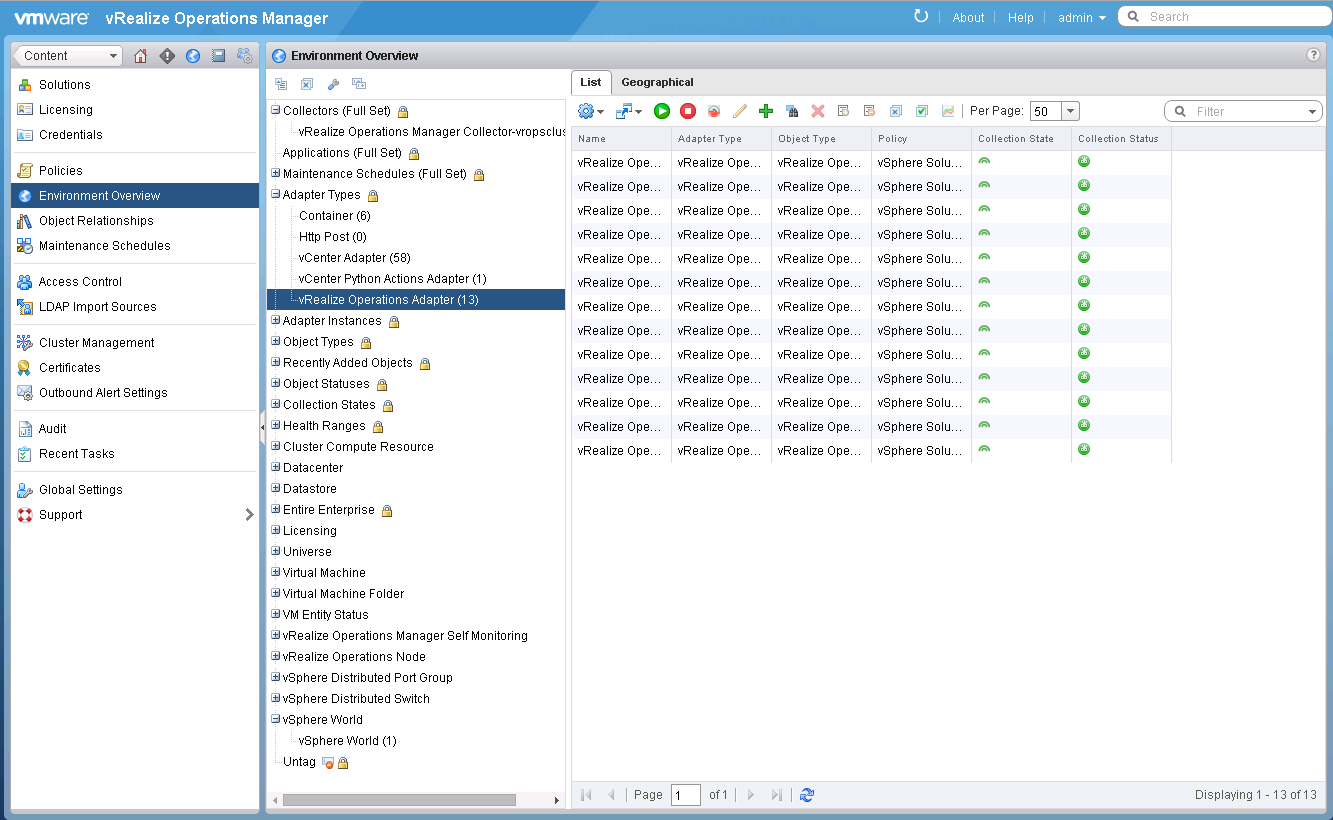 Click Home  > Self Health
You can monitor the health of the vRealize Operations Manager instance
The dashboard is customisable or you can make a copy and modify the copy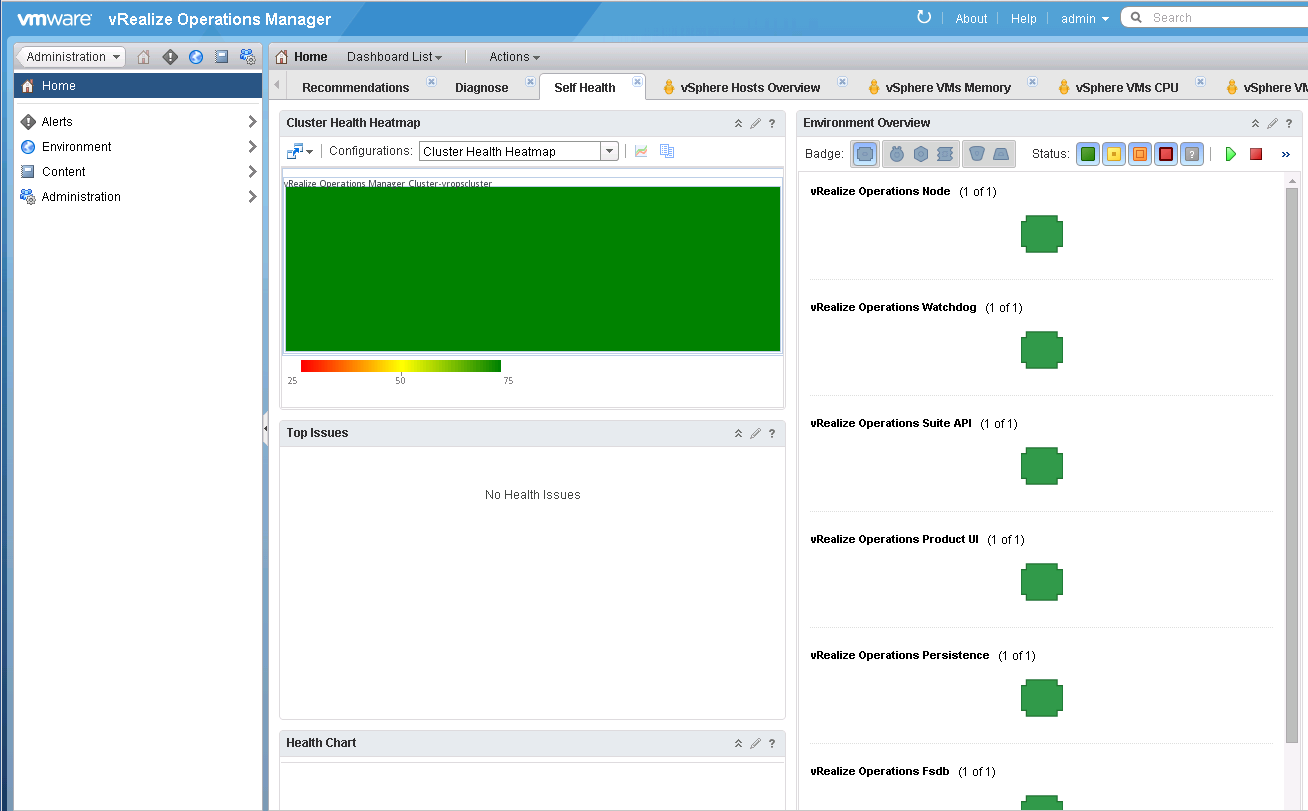 Go to Environment > Custom Groups
You can monitor components by using the single custom group shown below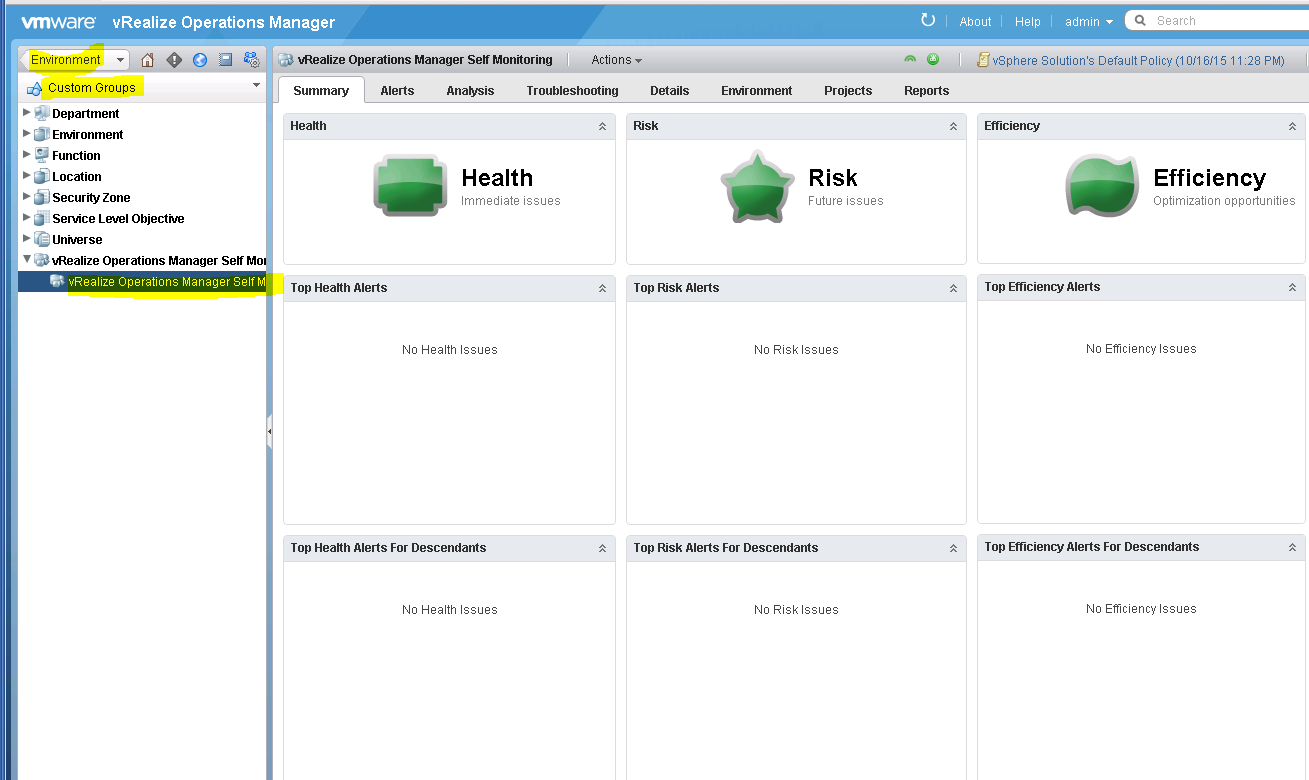 Support Bundles
A support bundle consists of specific logs and configuration files that are used by VMware to help troubleshoot issue. They contain
Log files
Configuration files
System dump information
Cluster information
Specific set of self monitoring graphs
You can generate a support bundle from the Product user interface
Go to Administration > Support > Support Bundles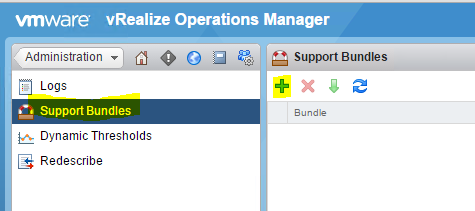 or from the Admin User Interface
Go to https://<vroserver>/admin
Go to Support > Support Bundles

You can choose which logs you want to send
Audit Reports
The Administration > Audit page lets you view audit reports which provide traceability of all objects and users in the environment,
User Activity (Who did what and when)
User Permissions Audit (Report on access rights)
System Audit (Report on objects, adapters and metrics)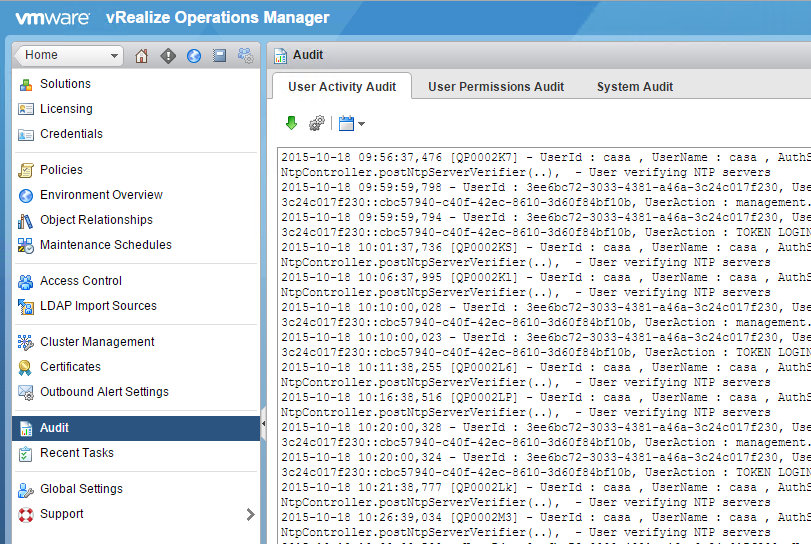 Cluster Management
Go to Administration > Cluster Management
You can set the NTP server or rebalance the cluster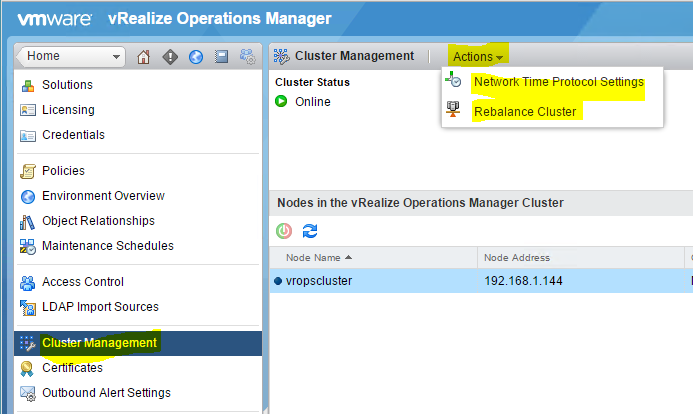 Rebalancing the cluster adjusts the vROps Manager workload across the cluster. You need to rebalance if you have added data nodes or added resource capacity to the cluster. As a rule you should rebalance your cluster if you increased the size by 25% or more. You have the following rebalancing options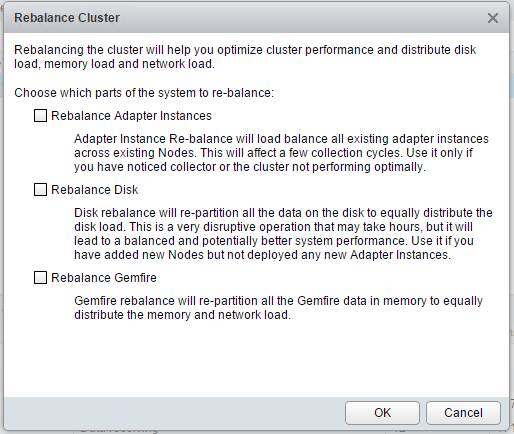 Dynamic Thresholds
A threshold marks the boundary between normal and abnormal behaviour for a metric. vROps supports dynamic thresholds that are calculated from historical and incoming data. Recalculate to capture the most current data
Go to Administration > Support > Dynamic Thresholds

Redescribe adapters
vROps will find the adapter files, gather information about the abilities of the adapter and updates the user interface with information about the adapter
Go to Administration > Support >Redescribe adapters
Other Administration tasks
Bring a cluster online or offline
Bring an individual node online or offline
Enable or disable high availability
Apply software updates

Backup and Restore
You can backup and restore the vROps cluster using one of the following methods
VMware Data Protection
3rd party backup solutions
vSphere Storage APIs allow you to take centralised off-host backups of VMs
vSphere Storage APIs allow you to leverage snapshot capabilities of VMFS datastores which allow VM backup across the SAN without requiring VM downtime
If you restore a vROps cluster then restore the whol cluster not just individual nodes
Adding resources to the cluster
Take the cluster offline
Power off the nodes
Increase the resources
Power on the nodes
Bring the cluster online
Note: If you add more nodes to the cluster then you will need to do a cluster rebalance
Note: All nodes in the cluster must be the same size
Change the IP address of a Node
Take the node offline
Shut down the node
Go into the Web client and change the vApp options with the new networking details
Power on the node and bring it online
Changing a Master Nodes IP address
Take all nodes except the master node offline
Take the master node offline
Shut down the master node
Go into the Web client and change the vApp options with the new networking details
Update DNS
Power on the master node
Bring the master node online
Bring all other nodes online