Virtual Connect Flex-10 technology is a hardware based solution that enables server administrators to partition each 10 gigabit Ethernet port into 4 and regulate the data speed of each partition. HP Flex-10 technology is available only with Virtual Connect (VC).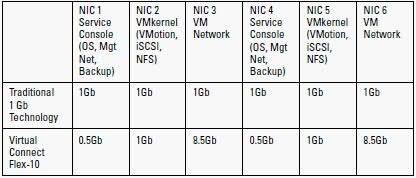 The Virtual Connect Flex-10 feature set enables VC to configure a single 10Gb network port of BladeSystem servers to represent four physical NIC devices, also called FlexNICs, with a total bandwidth of 10Gbps. These four FlexNICs appear to the operating system (OS) as discrete network interface controllers (NIC), each with its own driver. While the FlexNICs share the same physical port, traffic flow for each one is isolated with its own MAC address and virtual local area network (VLAN) tags between the FlexNIC and VC Flex-10 interconnect module. The bandwidth available to each FlexNIC is controlled by the server administrator through the Virtual Connect Manager interface.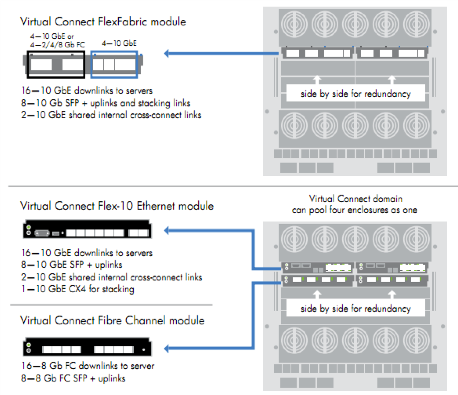 Advantages
Advantages from using Flex-10 technology are significant.
The implementation cost and management burden of 10GbE infrastructure become more feasible.
It is easier to aggregate multiple 1Gb data flows and fully utilize 10Gb bandwidth.
The ability to adjust bandwidth for partitioned data flow is more cost efficient and easier to manage.
The fact that Virtual Connect Flex-10 is hardware based but designed to compliment VC technologies, means that multiple FlexNICs are added without the additional processor overhead or latency associated with virtualization or soft switches.
Significant infrastructure savings are also realized since additional server NIC's and associated switches may not be needed.
Each dual-port Flex-10 NIC supports up to 8 FlexNIC's and each Flex-10 Interconnect Module can support up to 64 FlexNIC's. Other switch options only support 16 NIC's per model.
There are 2 available mezzanine slots in each blade for future expansion and 6 available I/O module slots in the enclosurfor future expansion
Instead of putting the burden of traffic throttling in software or the hypervisor, Flex 10 can do it in hardware
What does Virtual Connect Contain?

Virtual Connect is a set of interconnect modules and embedded software for HP BladeSystem c-Class enclosures that simplifies the setup and administration of server connections. HP Virtual Connect includes the following components:
HP 1/10Gb Virtual Connect Ethernet Module for c-Class BladeSystem
HP 1/10Gb-F Virtual Connect Ethernet Module for the c-Class BladeSystem
HP Virtual Connect Flex-10 10Gb Ethernet Module for BladeSystem c-Class
HP 4Gb Virtual Connect Fibre Channel Module for c-Class BladeSystem
HP Virtual Connect 4Gb Fibre Channel Module for BladeSystem c-Class (enhanced NPIV)
HP Virtual Connect Manager
How to access Virtual Connect
The Onboard Administrator for the HP BladeSystem c7000 enclosure is the brains of the new c-Class infrastructure. Together with the enclosure's HP Insight Display, the Onboard Administrator has been designed for both local and remote administration of HP BladeSystem c-Class. This module and its firmware provides:
Wizards for simple, fast setup and configuration
Highly available and secure access to the HP Bladesystem infrastructure
Security roles for server, network, and storage administrators
Automated power and cooling of the HP Bladesystem infrastructure
Agent-less device health and status
Thermal Logic power and cooling information and control
Each c7000 enclosure is shipped with a first Onboard Administrator module/firmware. If desired, a customer may order a second redundant Onboard Administrator module for each enclosure. When two Onboard Administrator modules are present in a c7000 enclosure, they work in an active – standby mode, assuring full redundancy of the c7000's integrated management.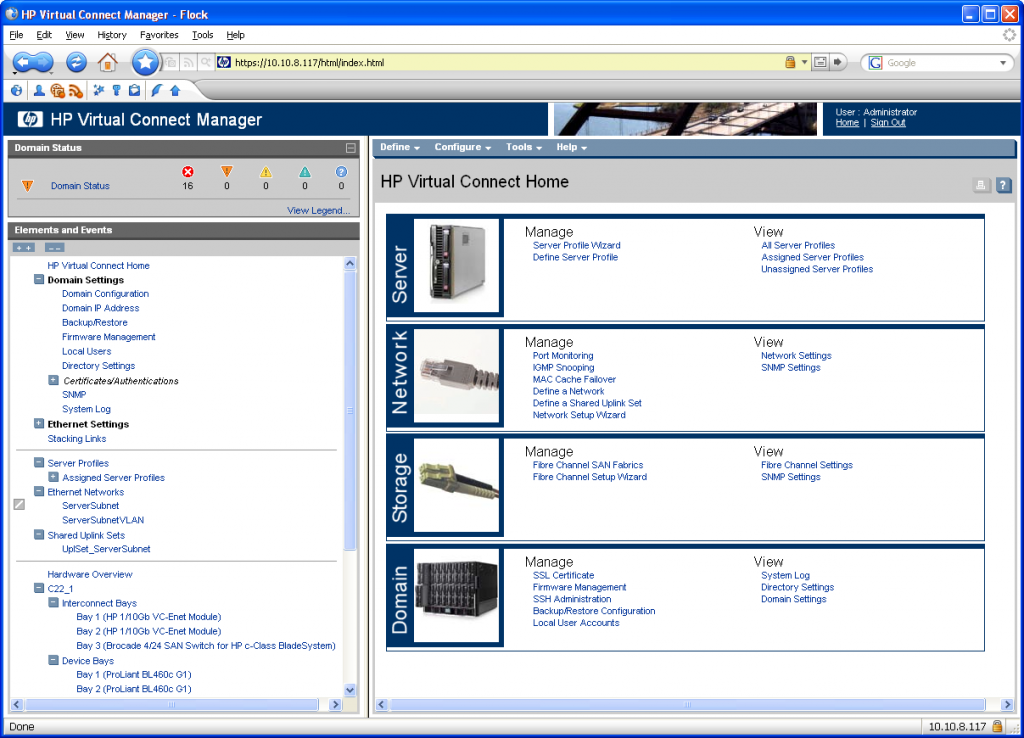 Support Manual
http://h20000.www2.hp.com/bc/docs/support/SupportManual/c00865618/c00865618.pdf?jumpid=reg_R1002_USEN
Useful Links
http://virtualkenneth.com/2009/11/04/understanding-hp-flex-10-mappings-with-vmware/
http://up2v.files.wordpress.com/2010/04/hp-virtual-connect-for-dummies.pdf