VMware vCLI Instructions
The vSphere Command-Line Interface (vSphere CLI) command set allows you to run common system administration commands against ESX/ESXi systems from any machine with network access to those systems. You can also run most vSphere CLI commands against a vCenter Server system and target any ESX/ESXi system that vCenter Server system manages. vSphere CLI includes the ESXCLI command set, vicfg- commands, and some other commands.
Download and Install vCLI
http://www.vmware.com/support/developer/vcli/
Right click on the vCLI icon and select Run as Administrator
Navigate to c:\Program Files (x86)\VMware\VMware vSphere CLI\bin
You will see the below vCLI commands (Note the .pl extension on the end)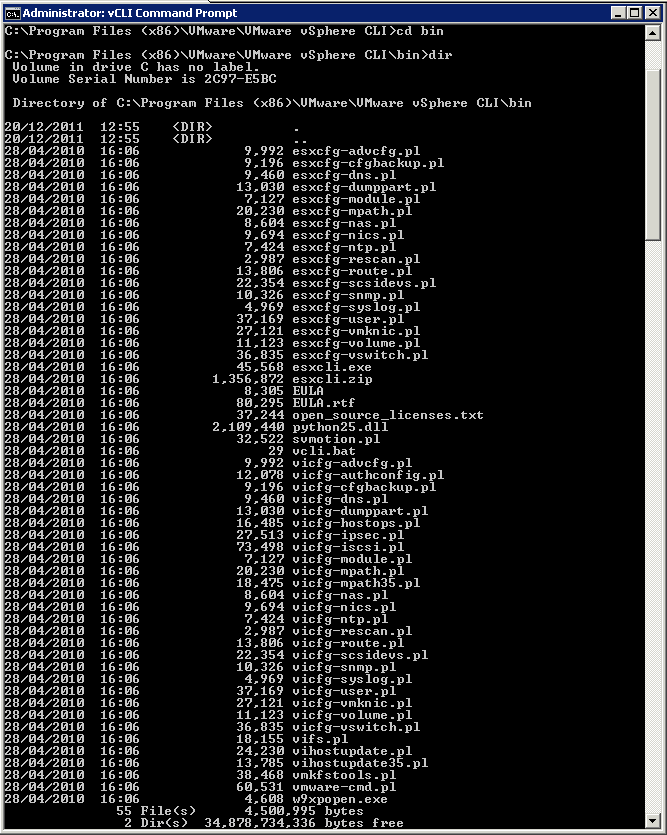 An example of running a command would be as per below with vifs.pl
Type vifs.pl –help to see the associated switches for this command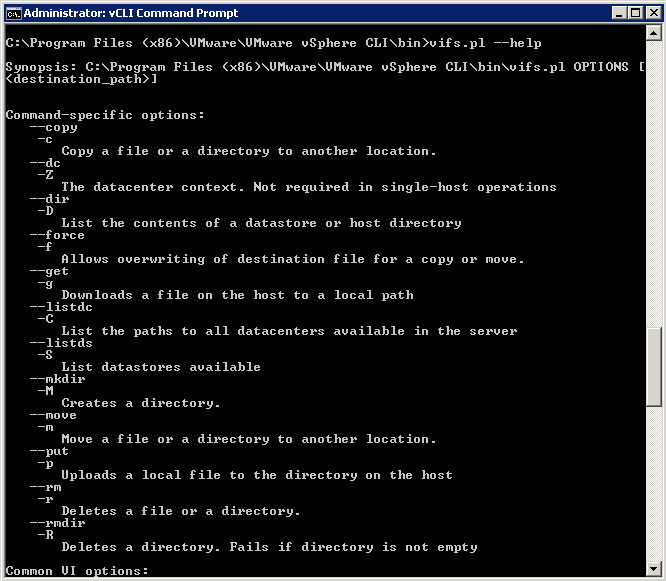 Try typing vifs.pl –server esxihostserver –listdc

Another example of this command as per below screenprints shows how you can create a folder on a Datstore
vifs.pl –server esxiserver –mkdir "[Datastore] test"

Documentation
vSphere Command-Line Interface Documentation
Getting Started with vSphere Command-Line Interfaces
vSphere Command‐Line Interface Concepts and Examples
vSphere Command‐Line Interface Reference
YouTube Video
Running Commands on Windows.
In order to stop having to put in credentials everytime you run a command you can can the following
save_session.pl –server esxiserver01 –username usera –password passswordxyz –savesessionfile c:\temp\vclisessionfile
The next time you run a command you can type the following
esxcli –server MyESXiHost –sessionfile c:\temp\vclisessionfile storage core filesystem list
vCLI Poster
http://blogs.vmware.com/tp/files/vmware-management-with-vcli-5.0.pdf