Archive for July 2012
Why use the free Hypervisor?
The vSphere Hypervisor is the same ESXi bare-metal hypervisor as what comes with all of the other editions. Using the free version will shut off some of the features available in the paid versions, but the vSphere Hypervisor still has many features not offered by Microsoft Hyper-V. Unless you are already using Microsoft System Center and Virtual Machine Manager, you may want to take a second look at ESXi
Features of vSphere Hypervisor
Even the free version of ESXi offers a higher consolidation ratio than Hyper-V because the CPU scheduler and memory technologies, like Transparent Page Sharing are enabled in all versions of ESXi.
The ESXi hypervisor has a much smaller footprint (144MB) than Hyper-V (3GB), even in the free core mode. A larger footprint means a larger attack area.
ESXi uses a rigorously tested driver set. Hyper-V uses generic Windows drivers, that are sometimes difficult to set up using the Hyper-V Core Mode interface. These drivers are usually the most common reason for the BSOD.
ESXi actually supports more versions of Windows than Hyper-V supports. It also supports more versions of Linux as well as OS-X Server, FreeBSD and Solaris.
ESXi allows for thin provisioning of VM disks.
ESXi allows you to use shared storage (single path only!). Hyper-V requires an Enterprise Edition license.
ESXi can be easily upgraded to unlock the features of any paid version by simply entering a new license key
What's Missing in vSphere Hypervisor
No advanced or enterprise features, such as vMotion, DRS, DPM, VM Templates, Autodeploy, etc.
Can only be managed using the vSphere Client connected directly to the ESXi host. No management via vCenter server.
Using PowerCLI or vCLI only allows for read-only functionality. You can't use those cool scripts.
Physical RAM capped at 32GB per host.
Virtual CPUs capped at 8 per VM.
No vSphere Distributed Switch.
No storage multipathing.
No vADP features means limited backup capabilities. But you can use backup agents inside the guest OS.
Licensing vSphere Hypervisor
If you download an ESXi image, all of the features are turned on by default. VMware gives you a 60-day evaluation license so that you can try all of the features before you decide which ones you want. I suggest that you try all of the features for a while before you make the final decision to use the free version. Whether you already have ESXi running or just want to get a copy, use the following instructions to get the free key.
Register and Download vSphere Hypervisor and the License Key
Start out by visiting http://www.vmware.com/go/get-free-esxi
Install ESXi on your server hardware
Either burn a CD from the ISO image you downloaded or use the remote console such as iLo to directly mount the image. The actual steps for installing ESXi on your hardware is not in scope of this document.
You will also need to install the vSphere Client on a Windows system if you have not already done so.
Applying the License Key to ESXi
Log into the ESXi host by connecting the vSphere Client directly and follow the steps below to add the vSphere Hypervisor key.
Click on Host > Configuration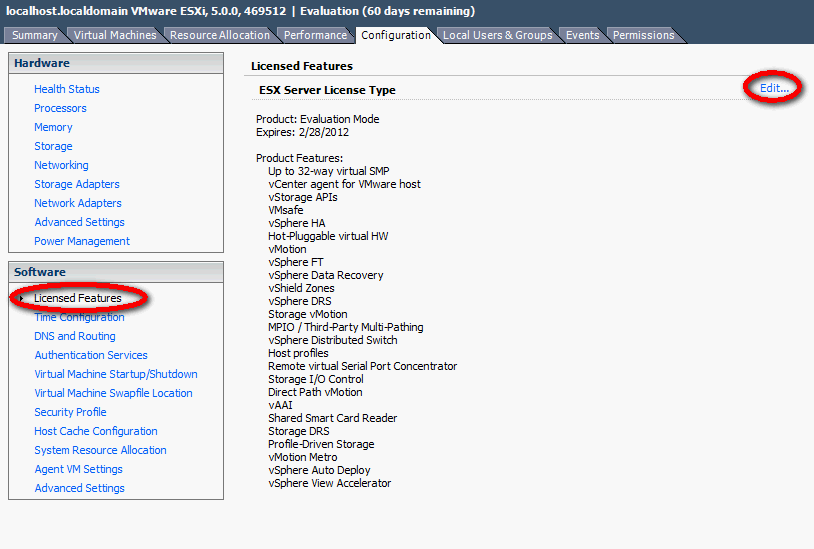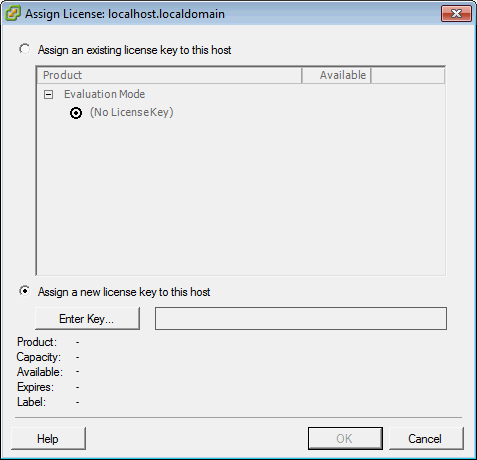 In the Assign License dialog, click on the Enter Key button.

 Check the license key is there and click OK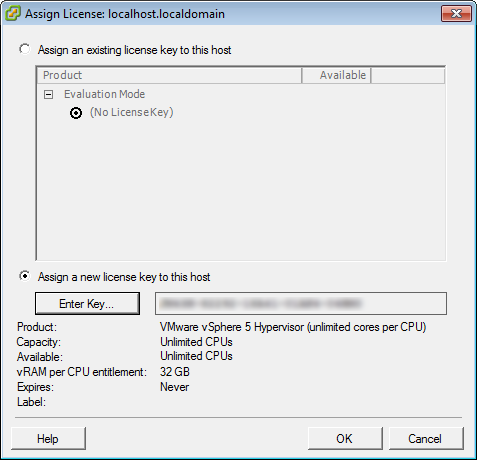 Confirm that the free features are enabled and that the key never expires.